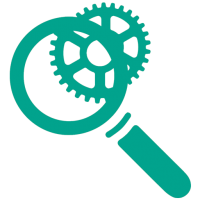 Research & Development
To innovate and give our customers are profitable operating environment is one of our chief objectives. We know well that technological standards change rapidly and our customers have to switch to latest technologies to stay ahead in a highly competitive environment. Our system of manufacture and service delivery take this into consideration when we promise quality products and services to our customers. Hence we invest heavily in research and development to benefit our patrons.
The chief focus of our research and development is eliminating equipment failures and we are proud that our track record on this impeccable. Another notable feature of our R & D initiatives is improvement on equipment life and durability through sound practices in raw material procurement processing and finished goods.
Behind our success as a quality garment finishing equipment manufacturer is our world-class research laboratory where customer complaints, if any, are thoroughly researched and solutions are formulated. We are a typical example of the successful business that has 100% succeed in transferring research and development to the factory floor.
Our R & D is designed to be customer-centric and our principal objective is to enable our customers to achieve lean manufacturing process that consumes lesser energy, improve quality of finished garments, meet environmental standards and finally ensure that all statutory and pollution issues are addressed.
As a result of our high investment in R & D, our customers benefit from:
Higher quality of finished garment resulting in the increased market share

Lower cost of operating and higher profitability

Improved perception of our customers as a quality garment producer

Lessens marketing burden of customers
We take a positive approach towards R & D and is based on customer needs and perceptions. It is our customers who decide the focus of our research endeavors. To put it in right perspective the purpose of our R & D is our customer's concern and keeping them competitive globally.